PIRTEK USA Shows Strong Growth During Q2 and Q3 with Thirteen New Signings and Openings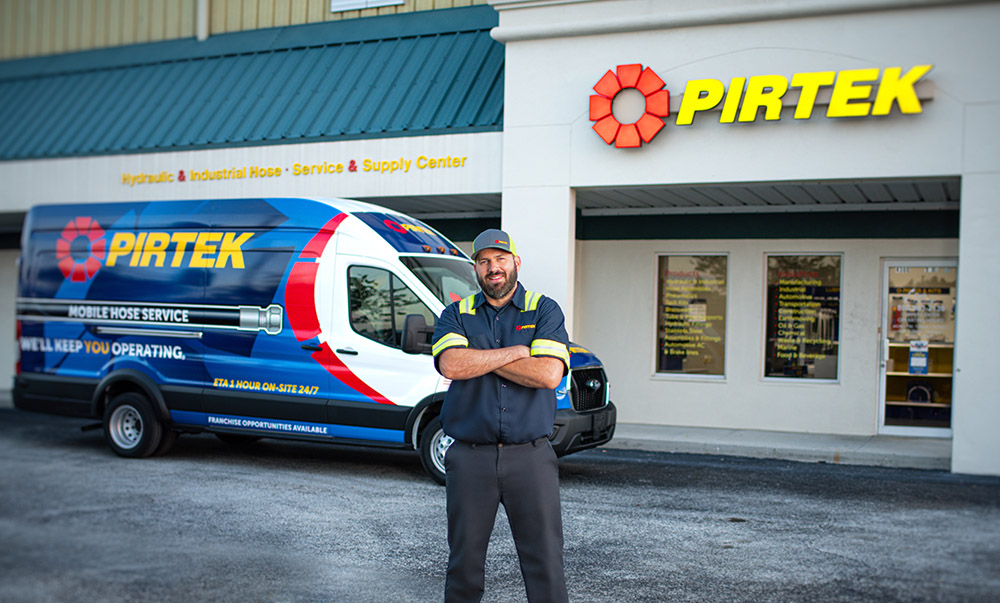 Global, On-site, and Retail Hydraulic and Industrial Hose Service Provider Demonstrates Brand's Strength through New Franchise Agreements and 2022 Franchise Ranking
 ROCKLEDGE, Fla. – (October 18, 2022) PIRTEK USA, a nationwide on-site and retail hydraulic and industrial hose premium service provider, saw strong growth from April to September with four openings and nine franchisee signings, four of which were resales. The new franchises indicate the brand's strength and demand in Texas, Georgia, Louisiana, Virginia, and Kentucky. PIRTEK USA was named #145 on the 2022 Franchise Times Top 500 list.
Since April, PIRTEK has opened four locations in Milwaukee, WI; Asheville, NC; Gonzales, LA; and Katy, TX. PIRTEK also signed five franchise agreements to bring brand-new locations to Covington, KY; Gonzales, LA; Atlanta, GA; Alexandria, VA; and Dallas, TX. These new signings include PIRTEK's second location in Kentucky and Louisiana. Additionally, PIRTEK completed four resale franchise agreements in Katy, TX, Baytown, TX, and two in Houston, TX.
"It has been tremendously satisfying to see the brand grow stronger. The fact that we have brought on several new franchise owners into our network demonstrates that PIRTEK is a strong business concept in any economic environment," said Nick Ridgway, Director of Franchise Development for PIRTEK USA. "As we move into the fourth quarter, I am confident that our team members and franchisees across the US will continue to show substantial growth in systemwide sales."
PIRTEK USA also made it on this year's Franchise Times Top 500 list at #145. Every year, Franchise Times ranks the 500 largest U.S.-based franchise systems by global systemwide sales to better encompass the biggest brands in franchising, along with promising young concepts in growth mode. The publication deploys seven researchers and reporters for a five-month process to collect, verify and analyze the numbers that shape this list. The list is backed by more than 20 years of research and is the only objective ranking available in the franchising space.
PIRTEK prides itself on minimizing or eliminating customers' costly equipment downtime due to a failed hose.  The hydraulic and industrial hose services are quick and efficient, having the widest variety of unique products and services to keep essential projects up and running. Their fast turnaround time is also credited to the 24/7/365 on-site hose service offered to almost any business with heavy equipment. PIRTEK's services often enable customers to be up and running again rapidly after a hose failure brings their job site to a standstill.
PIRTEK onboards potential franchisees who put customer service at the forefront of their mission, and it welcomes driven individuals from any and all industries, regardless of technical experience. An initial investment for PIRTEK ranges from $222,400 – $899,300. Franchisees can expect access to ongoing training and support and exclusive territories.
As the leading industrial franchise brand of its kind in the United States, PIRTEK USA specializes in hydraulic and industrial hose services through its locations throughout the country. PIRTEK team members are available 24/7/365 to provide on-site emergency replacement of hydraulic and industrial hoses, thanks to the company's specially equipped Mobile Service Vehicles. PIRTEK USA was also named #105 on the 2022 Entrepreneur Franchise 500 ranking, up from #145 the previous year.
To learn more about PIRTEK franchise opportunities, visit https://www.pirtekusafranchise.com/.
ABOUT PIRTEK USA:
PIRTEK USA provides the fastest hydraulic and industrial hose maintenance and replacement services through on-site mobile and service centers. The brand has more than 475 franchise locations in 23 countries around the world, with more than 100 located in the U.S. PIRTEK has a 1-hour ETA for on-site hose service, is available 24/7/365, and is a simple solution that minimizes equipment downtime and eliminates the need for customers to leave their job sites or facilities to locate new hydraulic and industrial hoses as well as hydraulic fittings. WE'LL KEEP YOU OPERATING® For more information, visit https://www.pirtekusa.com/ or follow us at @PIRTEKUSA on Facebook, LinkedIn, and Twitter.
Are you ready to own the best kept secret in franchising?
PIRTEK has franchising opportunities for you, and we now have exclusive territories available.
Learn more