PIRTEK Endurance Series® Hose
When Your Machines & Equipment Must Keep Operating
---
The PIRTEK Endurance Series® hose line of compact hydraulic hoses is available at your local PIRTEK location throughout the United States. On-site PIRTEK technicians will have these high-performance hoses on hand for their field installations. The PIRTEK Endurance Series hose line provides superior flexibility and accommodates a tighter bend radius than conventional SAE hoses. It also stands up to high pressure and is tested at one million impulse cycles.
THE PIRTEK ENDURANCE
SERIES HOSE – The DNA of Endurance
Higher pressure ratings provide higher performance, reliability, suits more applications and extends service life.
Offers a tighter bend radius than conventional hoses. Tested and qualified with K and J series ferrules.
Exceeds SAE 100R2AT, SAE 100R16 and the EN 857 2SC standard.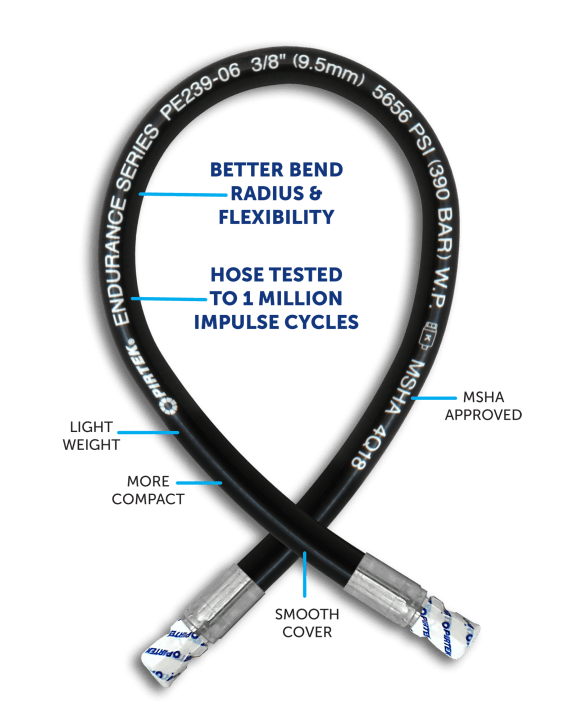 THE PIRTEK ENDURANCE SERIES
---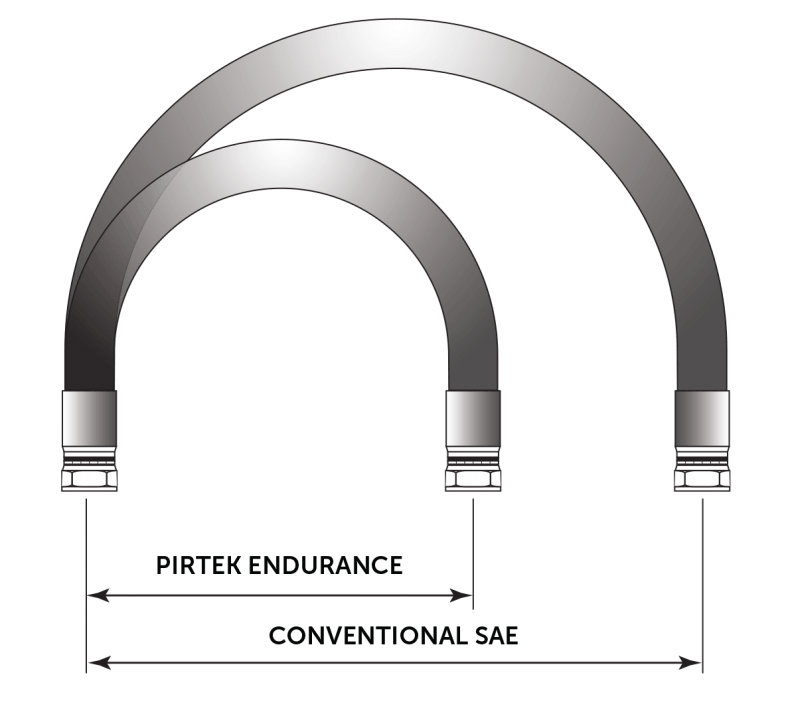 40% AVG. Better Bend Radius
Than Conventional SAE Hydraulic Hoses
Offering a tighter bending radius than conventional hoses.
SAE 100R1AT & R2AT hoses which results in:
Shorter hydraulic hose assemblies
Compact hydraulic circuits
Speedy installation = Less downtime
MORE COMPACT & BETTER FLEXIBILITY
---
Ease of installation and routing to meet market needs with improved long term value.
Compact OD with higher pressure than conventional SAE 100R2AT hoses
High flexibility with significantly reduced force to bend

PE2
TWO WIRE BRAID HYBRID HOSE
HOSE TYPE

Two wire braid hybrid
TUBE

Black synthetic rubber resistant to oils
COVER
Black, smooth synthetic rubber resistant to oils, abrasion and
weather conditions
REINFORCEMENT
Two high tensile steel braids
TEMPERATURE
- 40°F up to 212°F (257°F discontinuous) mineral/vegetable oils
- 40°F up to 158°F water-based fluids, 32°F up to 150°F air
- 40°F up to 158°F external ambient
APPLICATIONS
Extremely high-pressure compact hose with greater flexibility,suitable for mineral and vegetable oils, aqueous emulsions, water, air, and inert gases. Recommended for hydraulic applications where high pressure and tighter bend radius is needed.
REFERENCE
Exceeds SAE 100R16 and EN 857 2SC
HOSE TAILS
PIRTEK 'K' series up to 5/8", PIRTEK 'J' series 5/8", 3/4" and 1"
SPECIFICATIONS
MSHA, FRAS, USCG approved
PE4
FOUR WIRE SPIRAL HOSE
HOSE TYPE

Half bend radius 4 wire spiral
TUBE

Black synthetic rubber resistant to oils
COVER
Black wrapped abrasion resistant synthetic rubber cover, resistant to oils, ozone, and weather conditions.
REINFORCEMENT
5076 PSI (350 Bar) = Four high tensile steel spirals in - 20
6091 PSI (420 Bar) = Four high tensile steel spirals up to -16
TEMPERATURE
- 40°F up to 248°F (257°F discontinuous) mineral/vegetable oils
- 40°F up to 158°F water-based fluids 32°F up to 150°F water and air
- 40°F up to 158°F external ambient.
Prolonged usage with water or water-based fluids at temperatures above 158ºF will allow wire corrosion as a result of diffusion through the inner tube.
APPLICATIONS
Extremely high-pressure hose with high performance and half bend radius of SAE 100R13 and R15 hoses. Higher flexibility compared with conventional. spiral hoses. Suitable for mineral and vegetable oils, aqueous emulsions, water, air, and inert gases. Cover must be pin pricked if hose is to be used to convey air above 246 PSI (17 Bar).
REFERENCE
Exceeds SAE 100R13 (350 Bar) Exceeds SAE 100R15 (420 bar)
HOSE TAILS
350 Bar = J Series 1 1/4" 420 Bar = K Series or J Series 3/8" and 1/2", J Series 5/8", 3/4" and 1"
SPECIFICATIONS
MSHA, FRAS, USCG approved
PE6
SIX WIRE SPIRAL HOSE
HOSE TYPE

Half bend radius 6 wire spiral
TUBE

Black synthetic rubber resistant to oils.
COVER
Black wrapped abrasion resistant synthetic rubber cover, resistant to oils, ozone, and weather conditions.
REINFORCEMENT
6091 PSI (420 Bar) = Six high tensile steel spirals -20 and -24
TEMPERATURE
- 40°F up to 248°F (257°F discontinuous) mineral/vegetable oils
- 40°F up to 158°F water-based fluids 32°F up to 150°F water and air
- 40°F up to 158°F external ambient
Prolonged usage with water or water-based fluids at temperatures above 158ºF will allow wire corrosion as a result of diffusion through the inner tube
APPLICATIONS
Extremely high-pressure hose with high performance and half bend radius of SAE R15 hoses. Higher flexibility compared with conventional. spiral hoses. Suitable for mineral and vegetable oils, aqueous emulsions, water, air, and inert gases. Cover must be pin pricked if hose is to be used to convey air above 246 PSI (17 Bar).
REFERENCE
Exceeds SAE 100R15
HOSE TAILS
420 Bar = H Series 1 1/4" and 1 1/2"
SPECIFICATIONS
MSHA, FRAS, USCG approved