PIRTEK USA Shows Steady Q3 Growth through New Franchise Signings in Ohio, Kentucky, Missouri and New Mexico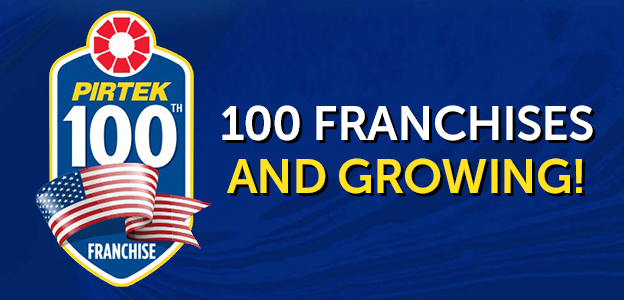 Global On-site and Retail Hydraulic and Industrial Hose Service Provider Demonstrates Brand's Strength through New Franchise Agreements and 2021 Franchise Ranking
ROCKLEDGE, Fla. – (October 12, 2021) PIRTEK USA, a global on-site and retail hydraulic and industrial hose service provider, has demonstrated the strength of its brand by signing eight new franchisees to the system during the third quarter of 2021. PIRTEK USA was also named #123 on the 2021 Franchise Times Top 400 list.
Since July, PIRTEK has signed franchise agreements to bring the brand to Elyria, OH; Springfield, MO; Louisville, KY; and Albuquerque, NM. PIRTEK also has attracted new ownership groups that have signed on to take over two franchise locations in Indianapolis, IN and two locations in New Jersey. The brand also opened a new location in Columbus, OH, in July.
PIRTEK prides itself on being able to fill customers' needs quickly and efficiently, having the widest variety of unique hydraulic and industrial products and parts to keep essential businesses up and running. Their quick turnaround time is also credited to the 24/7/365 on-site service it offers to a wide variety of industries, often enabling customers to be up-and-running again quickly, minimizing equipment downtime.
Southwest Missouri Owners Frank and Greg Myers say they are excited to bring PIRTEK to the Springfield area. Frank served in the US Navy as a machinist and Greg has a maintenance and mechanical background. The father and son team are combining their technical skills and work experience to open a Tier 2 location, with Frank Myers coming out of retirement to start the business. The pair learned about the company through friends, as well as the demand for an efficient hydraulic company in Springfield, MO. After researching the market, they saw an even more urgent need as the closest PIRTEK location was in St. Louis, MO – more than three hours away. The pair also learned that farmers in their community waited for hose replacement and repairs on their tractors and farming equipment for as long as six weeks.
"As technical professionals who work around machines, PIRTEK's 24/7 services and strong supply chain for parts truly impacted our decision to open a PIRTEK franchise," said Frank Myers. "My son and I wanted to invest in a business that would have the ability to keep our community's industrial and agricultural equipment running and position them to grow."
PIRTEK USA also made the Franchise Times Top 400 ranking at #123 on October 1. Previously known as The Top 200+, Franchise Times renamed its annual ranking of the 400 largest U.S.-based franchise systems by global systemwide sales to better encompass the biggest brands in franchising, along with promising young concepts in growth mode. The publication deploys seven researchers and reporters for a five-month process to collect, verify and analyze the numbers that shape this list. The list is backed by more than 20 years of research and is the only objective ranking available in the franchising space.
"As a B2B franchise brand, we are demonstrating tremendous strength and growth. After seeing the company's resiliency and success during 2020, we are excited to see so many entrepreneurs interested in investing in multiple franchises," said Nick Ridgway, Director of Franchise Development for PIRTEK USA. "From the transportation industry to construction trades, PIRTEK has proven an essential business that helps keeps the infrastructure of our economy running."
PIRTEK onboards potential franchisees who put customer service at the forefront of their mission, and it welcomes driven individuals from any and all industries, regardless of technical experience. An initial investment for PIRTEK ranges from $201,400 – $869,300. Franchisees can expect to receive access to and ongoing training and support as well as exclusive territories.
The only industrial franchise brand of its kind in the United States, PIRTEK USA specializes in hydraulic and industrial hose services through its locations throughout the country. PIRTEK team members are available 24/7/365 to provide on-site emergency repairs to hydraulic and industrial hoses, thanks to the company's specially equipped Mobile Service Vehicles.
To learn more about PIRTEK franchise opportunities, visit https://www.pirtekusafranchise.com/.
ABOUT PIRTEK USA:
PIRTEK USA provides the fastest hydraulic and industrial hose maintenance, repair, and replacement service through on-site mobile and service centers. The brand has more than 500 franchise locations in 23 countries around the world, with more than 100 located in the U.S. PIRTEK has a 1-hour ETA for on-site hose service, is available 24/7, and is a simple solution that minimizes equipment downtime and eliminates the need for customers to leave their job sites or facilities to locate new hydraulic and industrial hoses as well as hydraulic fittings. WE'LL KEEP YOU OPERATING® For more information, visit https://www.pirtekusa.com/ or follow us at @PIRTEKUSA on Facebook, LinkedIn and Twitter.
Are you ready to own the best kept secret in franchising?
PIRTEK has franchising opportunities for you, and we now have exclusive territories available.