Races begin Thanksgiving weekend in Minnesota; PIRTEK Snocross National scheduled for Jan. 6-7
Rockledge, FL, USA – November 17, 2016 – As the winter months draw near, for the third consecutive year PIRTEK will be a corporate sponsor of the world's largest snowmobile racing series: the AMSOIL Championship Snocross Series. The season begins Nov. 25-27 – Thanksgiving weekend – with the AMSOIL Snocross National in Duluth, MN.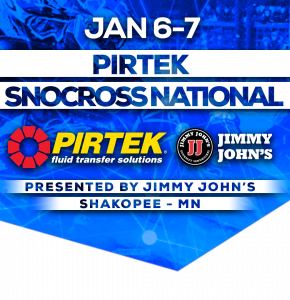 PIRTEK will be involved in the entire series, but is the primary sponsor of the PIRTEK Snocross National, presented by Jimmy John's which runs Jan. 6-7 at Canterbury Park & Racetrack in Shakopee, MN.
"We are very excited to take advantage of this opportunity and placing PIRTEK on a national level sponsorship platform," said Glenn Duncan, PIRTEK USA CEO. "We believe this package will provide PIRTEK high-profile exposure at the eight events that take place over two to three days each, and will also provide significant national exposure via live stream and on CBS Sports Network."
Snocross is a high-performance snowmobile race that resembles motocross, with its high air-jumps, banked corners and fast action.
"It's a thrilling sport," said Duncan, "The drivers are capable of some amazing feats as they fly around the track. We're happy we can support something so entertaining for so many people."
At the PIRTEK Snocross National, other sponsorship benefits include on-track signage, commercials on the track's big screen, a 30-second commercial on CBS Sports, radio ads, and several other opportunities to present the company's brand and message.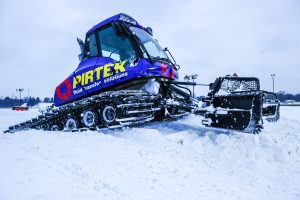 During the entire series, PIRTEK will continue to provide a quality race day experience for racers and fans with world class hydraulics on the company branded snow groomer.
The season runs throughout the winter, concluding with the RAM Trucks Snocross Grand Finale March 17-19 in Lake Geneva, WI.
Snocross Event Schedule
Nov 25-27, 2016 – Duluth, MN
Dec 16-17, 2016 – Winter Park, CO
Jan 6-7, 2017 – Shakopee, MN
Jan 20-21, 2017 – Deadwood, SD
Feb 3-4, 2017 – Salamanca, NY
Feb 24-25, 2017 – Mt Pleasant, MI
Mar 3-4, 2017 – Dubuque, IA
Mar 17-19, 2017 – Lake Geneva, WI
View Snocross CBS Sport Network Schedule