9030P PIRTEK Fluid Power Glove
Protection You Can't Get Anywhere Else, Hands Down

---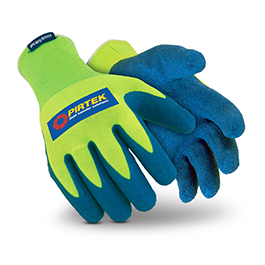 Fluid Injection Resistance Technology Exclusive to PIRTEK.
The PIRTEK Fluid Power Glove is ideal for those working on or with equipment powered by hydraulic and other high-pressure systems. Rigorous testing shows the PIRTEK Fluid Power Glove is the only hand protection available in the market to protect against fluid injection injuries up to 10,150 PSI (700 bar). The gloves' unique SuperFabric® demonstrated injection resistance from apertures ranging in size from .002″ to .012″ (0.05 to 0.3 mm) using standard hydraulic oil. The gloves' needlestick resistance provides protection in the palm and fingers by the 3 layers of SuperFabric® brand material.
The 9030P PIRTEK Fluid Power Glove has been independently tested by the Health & Safety Laboratory to prove it as a resistant barrier to skin penetration by standard hydraulic mineral oil against pressures of up to 10,150 PSI (700 bar). Additional protection includes abrasion resistance, blade cut resistance, tear resistance, puncture-resistant, and needlestick-resistant.
Available in sizes ranging from M to 2X. For more information about the 9030P PIRTEK Fluid Power Glove, contact your local PIRTEK.
Providing Safety Across All Industries:
Agriculture
Automotive
Construction
Defense
First Responders
Landscaping
Marine
Manufacturing
Mining
Municipalities
Oil & Gas
Painting
Pressure Cleaning
Transportation
Utilities
Waste & Recycling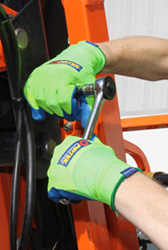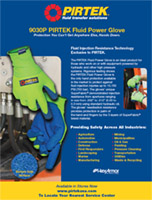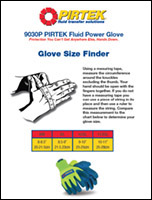 PIRTEK USA Glove Size Finder