PIRTEK USA Shows Strong 2021 Growth with Nine New Franchise Agreements and Five New Openings in Q4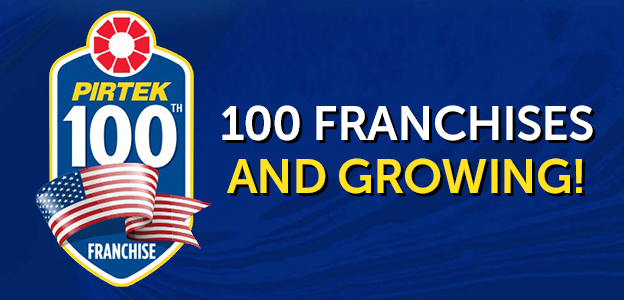 Global, On-site and Retail Hydraulic and Industrial Hose Service Provider Finishes the Year Strong with New Franchise Signings in Ohio, Georgia, Iowa, Texas, and North Carolina.
ROCKLEDGE, Fla. – (January 11, 2022) PIRTEK USA, a global on-site and retail hydraulic and industrial hose service provider, saw robust growth at the end of 2021 by signing nine new franchise agreements and opening five locations by the end of the year. In addition, the franchisor's 2021 expansion milestones include a 14 percent unit growth and new locations expansion across 28 states. PIRTEK USA was also named #105 on the 2022 Entrepreneur Franchise 500 ranking, up from #145 the previous year.
In 2021, PIRTEK signed franchise agreements to bring the brand to Cedar Rapids, IA, Atlanta, GA, Houston, TX, Wilmington, NC and Ashville, NC. As a testament to the brand's strong demand in industrial hubs, these new signings include PIRTEK's seventh location in the Atlanta metropolitan area and its sixth location in the state of North Carolina. They have also opened five new locations in Elyria, OH, Albuquerque, NM, Oshkosh, WI, Springfield, MO, and Louisville, KY in the last quarter of 2021. In addition, PIRTEK completed four resale franchise agreements in Florida with Tim Kelly, a former PIRTEK USA employee now turned franchisee.
"We have seen an uptick in franchise opportunity interest because our brand offers two franchise tiers to suit the needs of a wide range of investors," said Nick Ridgway, Director of Franchise Development for PIRTEK USA, noting the franchise offers its classic brick-and mortar model and new mobile services model. "Growth has also come from within as several existing franchise owners have expanded to add additional PIRTEK franchises to their portfolio due to the proven success of the concept, the corporate support offered, strong operating systems and positive reputation in the industry."
PIRTEK onboards potential franchisees who put customer service at the forefront of their mission, and it welcomes driven individuals from any and all industries, regardless of technical experience. An initial investment for PIRTEK ranges from $201,400 – $869,300. Franchisees can expect to receive access to and ongoing training and support as well as exclusive territories.
Dean Akin, a Texas-based, multi-unit PIRTEK franchise owner with locations in San Antonio, Pearland, Baytown and Houston, TX, signed an agreement in 2021 to open his fifth location in the Houston, TX area. "I've been proud to grow with PIRTEK because this franchise has provided an opportunity to make a positive economic impact in communities with a recession-resistant business, helps keep essential businesses up-and-running with 24/7 services, and has a strong reputation within several industries, such as agriculture, construction, manufacturing and defense," says Akin.
The only industrial franchise brand of its kind in the United States, PIRTEK USA specializes in hydraulic and industrial hose services through its locations throughout the country. PIRTEK team members are available 24/7/365 to provide on-site emergency replacement of hydraulic and industrial hoses, thanks to the company's specially equipped Mobile Service Vehicles.
To learn more about PIRTEK franchise opportunities, visit https://www.pirtekusafranchise.com/.
ABOUT PIRTEK USA:
PIRTEK USA provides the fastest hydraulic and industrial hose maintenance and replacement services through on-site mobile and service centers. The brand has more than 500 franchise locations in 23 countries around the world, with more than 100 located in the U.S. PIRTEK has a 1-hour ETA for on-site hose service, is available 24/7/365, and is a simple solution that minimizes equipment downtime and eliminates the need for customers to leave their job sites or facilities to locate new hydraulic and industrial hoses as well as hydraulic fittings. WE'LL KEEP YOU OPERATING® For more information, visit https://www.pirtekusa.com/ or follow us at @PIRTEKUSA on Facebook, LinkedIn and Twitter.
Are you ready to own the best kept secret in franchising?
PIRTEK has franchising opportunities for you, and we now have exclusive territories available.