PIRTEK USA Showed Strong 2022 Growth with 25 Franchise Agreements and 14 Openings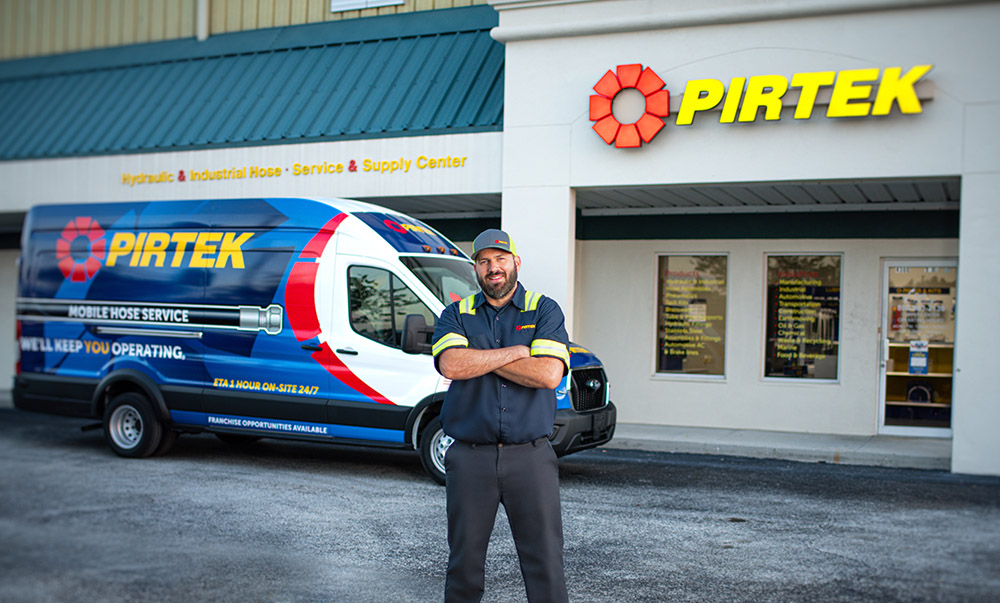 Global, On-site, and Retail Hydraulic and Industrial Hose Service Provider Demonstrates the Brand's Strength through Multiple Openings and Franchise Agreements
 ROCKLEDGE, Fla. – (January 24, 2023) PIRTEK USA, a global on-site and retail hydraulic and industrial hose service provider, saw strong growth in 2022 by signing 13 new franchise agreements, 12 resale agreements, and opened 13 locations. In addition, the franchisor's 2022 expansion milestones include a 26 percent increase in system-wide sales, and an 11 percent increase in units open. PIRTEK USA was also ranked #107 on Entrepreneur's prestigious 2023 Franchise 500 list, and included in Franchise Business Review's 2023 Top 200 Franchise list.
 In 2022, PIRTEK opened 13 locations in Atlanta, GA (2); Cedar Rapids, IA; Wilmington, NC; Jacksonville, FL; Milwaukee, WI; Asheville, NC; Gonzales, LA; Katy, TX; DeSoto, TX; Poughkeepsie, NY; Alexandria, VA, and Gainesville, GA.
 Sabrina and Robert Guzman, a husband-and-wife leadership team, purchased PIRTEK Broadway in San Antonio, TX, in March of 2022 and signed an agreement to open their second PIRTEK location in New Braunfels in the spring of 2023. Robert, who previously served as the operations manager of PIRTEK Broadway, located at 9008 Broadway in San Antonio, TX, saw how well the brand ran its operations and began thinking about opening his own PIRTEK franchise business.
 "As a proud former PIRTEK employee, Robert was able to gain great visibility into how to run the business and how having a great team to support the company set the foundation for great success," said Sabrina Guzman. "These observations made our decision to purchase two PIRTEK franchise locations an easy one. We have learned that territory management and putting the best people in the right roles are vital to our success. We look forward to continuing our growth with this brand alongside our incredible teams."
 PIRTEK also signed 25 franchise agreements for locations in Jacksonville, FL; Milwaukee, WI; Poughkeepsie, NY; Covington, KY; Gonzales, LA; two agreements in Atlanta, GA; Alexandria, VA; Dallas, TX; San Antonio, TX; Valley View, OH; Tallahassee, FL; Pensacola, FL; Katy, TX, Baytown, TX; two agreements in Houston, TX; San Diego, CA; Monroeville, PA; Richmond, VA; New Braunfels, TX; Virginia Beach, VA; Merrillville, IN; Blacklick, OH and Johnstown, CO. These new signings include PIRTEK's eighth location in Georgia, eighteenth location in Florida, and second locations in Kentucky and Louisiana.
 "The growth PIRTEK experienced in the past year with openings and signings was substantial and a testament to the strength of this brand. We even had two former PIRTEK employees, Tyler Drehs and Robert Guzman, each becomes a PIRTEK franchisee, with one in Valley View, OH, and the other in San Antonio, TX," said Nick Ridgway, Director of Franchise Development for PIRTEK USA. "We are confident the momentum for this recession-resistant business opportunity and needed service offering will continue throughout the coming year, resulting in additional growth and increased system-wide sales."
 PIRTEK onboards potential franchisees who put customer service at the forefront of their mission, and it welcomes driven individuals from any and all industries, regardless of technical experience. The initial investment for PIRTEK ranges from $201,400 – $869,300. Franchisees can expect to receive access to ongoing training and support as well as exclusive territories.
 The only industrial franchise brand of its kind in the United States, PIRTEK USA specializes in hydraulic and industrial hose services through its locations throughout the country. PIRTEK team members are available 24/7/365 to provide on-site emergency replacement of hydraulic and industrial hoses, thanks to the company's specially equipped Mobile Service Units.
 To learn more about PIRTEK franchise opportunities, visit https://www.pirtekusafranchise.com/.
ABOUT PIRTEK USA:
PIRTEK USA provides the fastest hydraulic and industrial hose maintenance and replacement services through on-site mobile and service centers. The brand has more than 475 franchise locations in 23 countries around the world, with more than 125 located in the U.S. PIRTEK has a 1-hour ETA for on-site hose service, is available 24/7/365, and is a simple solution that minimizes equipment downtime and eliminates the need for customers to leave their job sites or facilities to locate new hydraulic and industrial hoses as well as hydraulic fittings. WE'LL KEEP YOU OPERATING® For more information, visit https://www.pirtekusa.com/ or follow us at @PIRTEKUSA on Facebook, LinkedIn, and Twitter.
Are you ready to own the best kept secret in franchising?
PIRTEK has franchising opportunities for you, and we now have exclusive territories available.
Learn more