PIRTEK USA Continues Strong Growth Trajectory with Q1 Signings and Openings, Exceeds Q1 2022 Numbers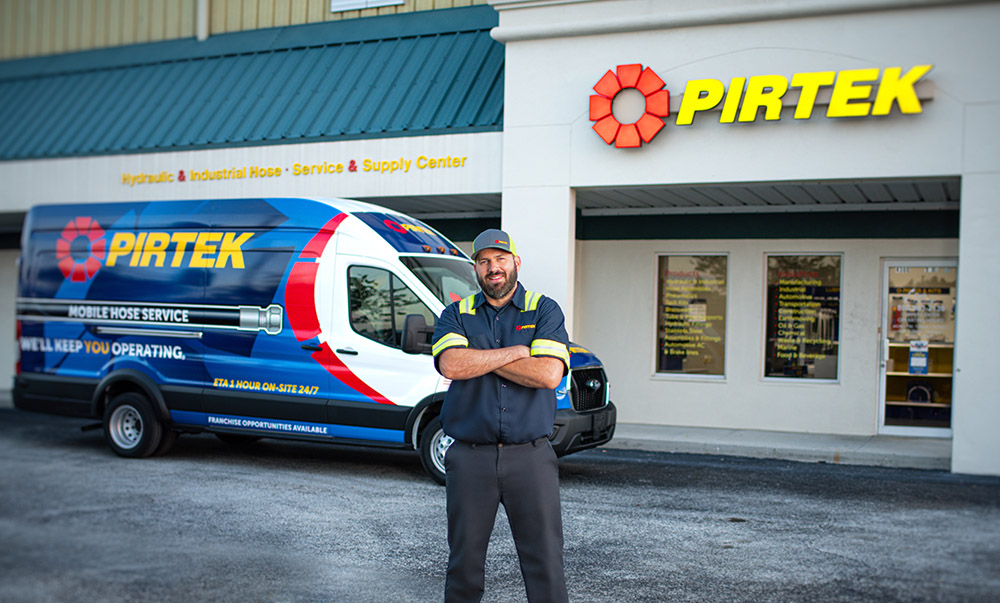 Global, On-Site, and Retail Hydraulic and Industrial Hose Service Provider Begins the Year Off with Two Openings and 14 Signings
ROCKLEDGE, Fla – (May 1, 2023) PIRTEK USA, a global on-site and retail hydraulic and industrial hose service provider, saw strong growth at the beginning of 2023 with five openings and 15 new franchisee signings. The new franchise agreements exceed the growth numbers for all 2022 and signal the growing demand for top-tier hydraulic and industrial service providers nationwide.
Since January, PIRTEK has opened five locations in Atlanta, GA, National City, CA, Covington, KY, Merrillville, IN, and New Braunfels, TX. PIRTEK also signed 15 franchise agreements to bring brand new locations to Arlington, TX; Phoenix, AZ; Toledo, OH; Tuscaloosa, AL; Bakersfield, CA; El Paso, TX; Colorado Springs, CO; Macon, GA; McKinney, TX; Pflugerville, TX; Fort Wayne, IN; Stafford, TX; Minneapolis, MN; Mississauga, Ontario; and Calgary, Alberta. Some notables to these new signings include PIRTEK opening its first-ever Canadian location, its 10th location in Georgia and its 21st location in Texas.
The progress we've made in Q1 is truly remarkable, and it's a testament to all the hard work and dedication of Team PIRTEK, said Nick Ridgway, Director of Franchise Development for PIRTEK USA. This is just the beginning of more to come.
Experienced entrepreneurs like Aric Stott, who has a background in architectural drafting, commercial construction, and real estate rentals, have taken notice of the brand's rapid growth and essential service officing. He signed on in Q1 to open PIRTEK Colorado Springs later this year. "I'm proud to open my first PIRTEK location not only because of the brand's strong business model and continued success, but because of the opportunity it allows me to create jobs, invest in my community, and provide an essential service to Colorado Springs and the surrounding areas."
PIRTEK prides itself on filling customers' hose service needs quickly and efficiently, having the widest variety of unique products and parts to keep essential projects running. Their quick turnaround time is also credited to the 24/7/365 on-site service offered to hydraulic and industrial-based businesses, enabling customers to be up and running again quickly, minimizing equipment downtime.
PIRTEK onboards potential franchisees who put customer service at the forefront of their mission, and it welcomes driven individuals from any and all industries, regardless of technical experience. An initial investment for PIRTEK ranges from $249,400 – $899,300. Franchisees can expect access to ongoing training and support and exclusive territories.
The only industrial franchise brand of its kind in the United States, PIRTEK USA specializes in hydraulic and industrial hose services through its locations throughout the country. PIRTEK team members are available 24/7/365 to provide on-site emergency replacement of hydraulic and industrial hoses, thanks to the company's specially equipped Mobile Service Units. PIRTEK USA was also named #105 on the 2022 Entrepreneur Franchise 500 ranking, up from #145 the previous year.
To learn more about PIRTEK franchise opportunities, visit https://www.pirtekusafranchise.com/.
ABOUT PIRTEK USA:
PIRTEK USA provides the fastest hydraulic and industrial hose maintenance and replacement services through on-site mobile and service centers. The brand has 475+ franchise locations in 24 countries around the world, with more than 100 located in the U.S., PIRTEK has a 1-Hour ETA for on-site hose service, is available 24/7/365, and is a simple solution that minimizes equipment downtime and eliminates the need for customers to leave their job sites or facilities to locate new hydraulic and industrial hoses as well as hydraulic fittings. WE'LL KEEP YOU OPERATING® For more information, visit https://www.pirtekusa.com/ or follow us at @PIRTEKUSA on Facebook, LinkedIn, and Twitter.
Are you ready to own the best kept secret in franchising?
PIRTEK has franchising opportunities for you, and we now have exclusive territories available.
Learn more