Benefits include easier entry to business ownership
for one of the nation's top B2B franchises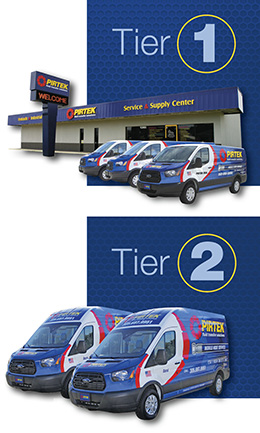 September 21, 2016 – PIRTEK, the world's leading fluid transfer solutions company, has launched a new program to help more entrepreneurs gain access to one of the top B2B franchises available in the United States today.
With only a $20,000 point of entry, PIRTEK's new Tier 2 franchise program provides an easy and accelerated way for existing franchisees to expand their territories or enter new markets. The unique program also provides individuals who may have not met all the resource requirements for a standard franchise—which includes a Service & Supply Center and multiple Mobile Service Vehicles—with a mobile-only option to start.
"This new Tier 2 program supports our standard franchise offering by providing current franchisees a new avenue for growth and expansion," said Glenn Duncan, executive director of PIRTEK International. "In addition, it opens the door to business ownership for a wider group of entrepreneurs."
In the standard PIRTEK franchise model, a franchisee starts with a Service & Supply Center, three Mobile Service Vehicles, approximately six team members and a $50,000 initial investment. With the new Tier 2 option, a franchisee can quickly launch into a new market with only two leased Mobile Service Vehicles, expanding the fleet as revenues grow. The franchisee can keep the inventory in a garage or self-storage facility.
The goal of each Tier 2 franchisee is to have a fully staffed and outfitted Service & Supply Center within three years. With the addition of each new Mobile Service Vehicle, PIRTEK will expand the franchisee's exclusive territory. Tier 2 franchisees also can take advantage of the full administrative support that the PIRTEK corporate office provides as they grow their business.
The level of training for the Tier 2 franchise program is the same required of the standard program. U.S. veterans interested in participating in the Tier 2 program can receive a $5,000 discount from the company.
PIRTEK is the only franchise of its kind in the United States, providing hydraulic and industrial hose replacement sales and services. There are 58 PIRTEK Service & Supply Centers and a fleet of Mobile Service Vehicles throughout the United States. Globally, PIRTEK has more than 400 locations and 2,000 Mobile Service Vehicles in 23 countries around the world.
To learn more about the new PIRTEK franchise program, visit the Franchise Opportunities Page or call (888-774-7835.